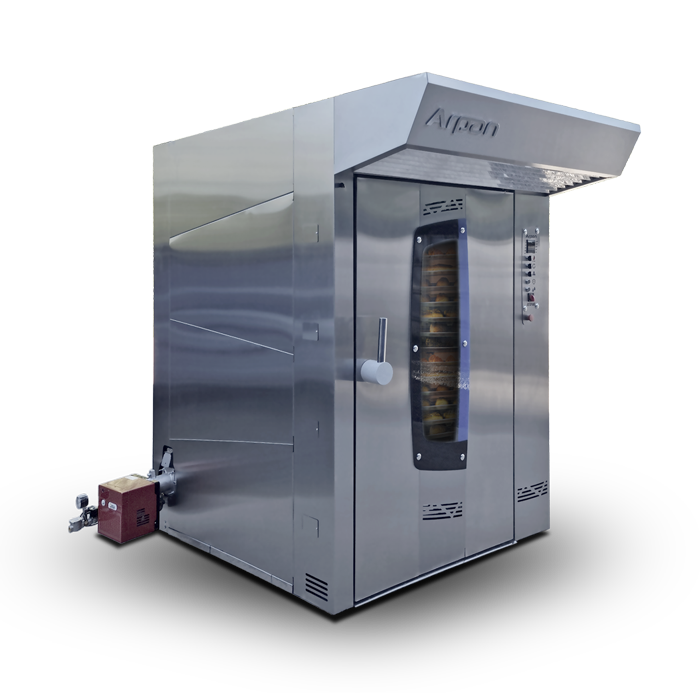 Maximum energy efficiency thanks to its innovative heat exchange system.
Unique in the American market with high performance and low consumption.
Boiler with top quality stainless steel heat exchanger.
High production start-up speed reaching from 20°C to 200°C in 7 minutes.
3 adjustable forced air columns with 12 different flaps.
Czerweny armored motors.
Firing cycles for recurrent programming.
Timer to start the cooking cycle.
Double board, one digital and the other analogical of parallel work that works as auxiliary board.
Full Gas/GasOil
| ASPECTO | VALOR |
| --- | --- |
| ALIMENTACION ELECTRICA | 400v./3N ~ /50Hz o 60Hz |
| ALIMENTACION DE AGUA | Diámetro Ø 3/4″ |
| SALIDA DE ESCAPE | Diámetro Ø 150mm |
| SALIDA DE VAPOR | Diámetro Ø 3″ |
| CAPACIDAD EN BANDEJAS | 30 / 40 |
| MEDIDA DE BANDEJAS | 70 x 45 o 60 x 40 |
| PASADA MINIMA PARA HORNO DESARMADO | 700 x 1620 mm |
| PESO | 875 Kg. |
| CONSUMO | Consultar |
| POTENCIA ELECTRICA | 1,4 Kw. |
Full Electricidad
Full Pellets